Outdoor winter plants are the ultimate savior when it comes to enjoying plants during the cold season. The water-freezing low temperatures, the cold gusts of dry wind, and snowfall tremendously limit the choice of plants you have.
(Unfortunately, you would have to see your tropical plants vanish before your very eyes. We have, however, also compiled some tips and tricks to help you save your beloved plants from complete destruction in winter!)
Outdoor winter plants help you achieve a cheery look as their vivid, vibrant colors are enhanced by the snowy white background. They add color to the barren landscape of your garden and will keep you fixated even on the darkest of days!
Note: The upside of planting outdoor winter plants is that they are fairly low-maintenance! You wouldn't have to persuade yourself every day to step out on the dreaded cold nights to save your plants. Dope, right?
There are three ways you can add winter plants to your outdoor space:
Either by planting directly in the garden soil, by placing them in pots, or by hanging them. To make your life easier, in this one-stop guide, we have mentioned the names of winter plants for each category so you wouldn't have to go through the ordeal we did! Let's begin.
Outdoor plants that survive in winter
Outdoor plants that survive winter are quite many, but the range to which they can endure the weather depends on the hardiness zone they belong to. Some of the best outdoor winter plants are:
Camellia
USDA Hardiness Zone: 6 to 9
This exemplary shrub will be the best addition to your topiary. The rich green leaves along with vibrant flowers add depth to your garden. The colors can range from white, pink, coral, red, and yellow. The winter-blooming variety of this plant sometimes displays more than one color at once!
Note: Camellias are shade-loving, therefore it's best to plant this outdoor winter plant in a low-lit area of your garden.
Japanese Yew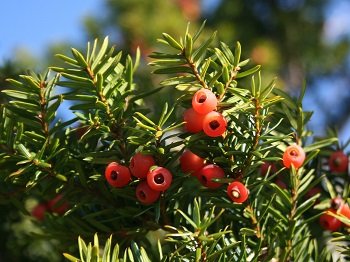 USDA Hardiness Zone: 4 to 7
Japanese Yew, despite its origin, is quite common in America too. This evergreen tree can grow quite tall (will give you a Christmas feel for sure!) and survives the harshest of winters flawlessly. As far as pruning is concerned, Japanese Yew is very forgiving.
Pro Tip: Plant Japanese Yew on the north side of the building to save its leaves from the winter burn.
Wheeler's Dwarf Japanese Mock Orange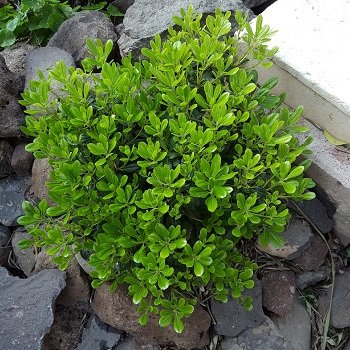 USDA Hardiness Zone: 9 to 10
This slow-growing outdoor winter plant can tolerate mild cold conditions as compared to others (i.e. -1 to -7°C). This compact shrub looks ideal when placed along fences and walls. You can also create a low-maintenance shrub border by planting them in masses.
Witch hazel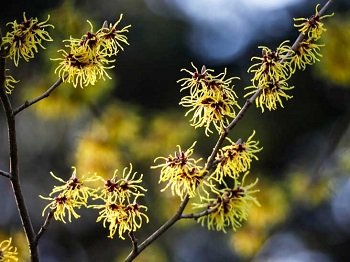 USDA Hardiness Zone: 5 to 7
The welcoming display of color by the flowers of witch hazel is an alluring sight to see. These cold-hardy plants bloom in winter and do not shed their flowers even below 0°C. Witch hazel is virtually maintenance-free (you can watch them thrive happily once adapted) and just needs full sun in winters. Some pruning from time to time is also recommended.
Note: Witch Hazel is famous for its fiery orange blooms and astringent properties, making it an ideal skincare ingredient (Take a walk along the memory lane, mate. You must have heard about it from your grannies and aunties!)
English Primroses
USDA Hardiness Zone: 4 to 8
Primroses are one of the best outdoor winter plants. They bloom five-petaled flowers in winter that have showy colors such as blue, white, yellow, orange, and more.
You can rest assured that they will survive the hardest of British winters without disrupting. They also do not require much sun exposure and have low water requirements.
Honeywort
USDA Hardiness Zone: 2 to 11
Their tubular flowers resting at the tip of nodding stems while surrounded by leaves is the iconic shape of honeywort. The foliage turns to the most amazing purplish tone during winter, contrasting well with other plants. They also can be grown in both the ground and containers (Bingo! Isn't it?)
Honeyworts are also known to propagate themselves with seeds, therefore they do not need your assistance in this matter. (Phew!) For best growth, place these outdoor winter plants in full sun.
Note: Honeyworts attract bees in spring. Be ready to witness your garden get full of life!
Winter outdoor potted plants
The options of winter plants for outdoor pots are endless! You will find yourself wanting to include each one of them for their uniqueness and beauty. From lush green foliage, bright berries to vibrant flowers, you will find everything you want in our collection of winter container plants outdoors.
A note to remember: The winter outdoor potted plants are more prone to root drying than others. Therefore always go for frost-proof pots such as wooden, plastic, fiberglass, treated terracotta, and clay. Remember 'frost-proof' is different from 'frost-resistant'. Your frost-resistant pot may still break as winter progresses, but the former won't.
Snowdrops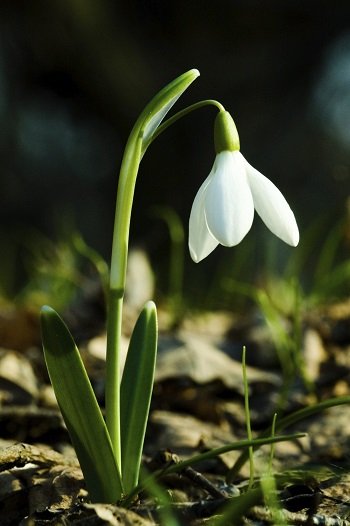 USDA Hardiness Zone: 3 to 8
Snowdrops are known for their white downward facing flowers, which look like ice drops at a glance. They are best planted in the early fall and can survive appreciably low temperatures before giving in. The best way to grow these winter outdoor potted plants is by grouping them with evergreens such as hellebores for a fuller look.
Pansies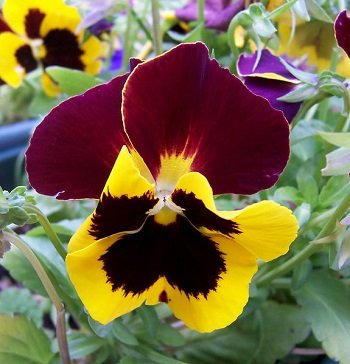 USDA Hardiness Zone: 6 to 8b
It's impossible for anyone to not mention this outdoor winter flowering plant's name when listing the plants ideal for cold regions. Potted pansies are a go-to option if you are looking to add a bright color splash to your garden amidst the winter grays. The vividly-colored yellow maroon and purple, five-petaled blooms of pansies do not wither in cold weather(except when the condition worsens).
Cyclamen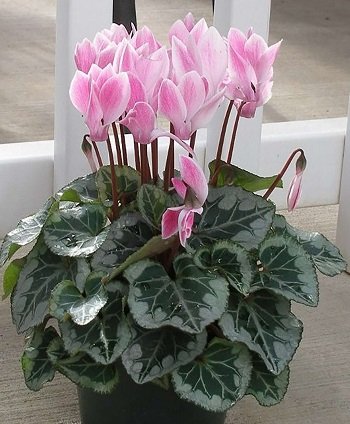 USDA Hardiness Zone: 4 to 8
Do you want to take your patio display to the next level? Place these stunning cyclamen in pots on your patio for an eye-catching look. Their free-flowering capacity along with the ability to naturalize soil makes them an ideal winter outdoor plant to add a shrub and tree base.
P.S. If you have a girl child, this will be her favorite plant. The Barbie-pink color of the flowers is truly extraordinary!
Wintergreen (Gaultheria procumbens)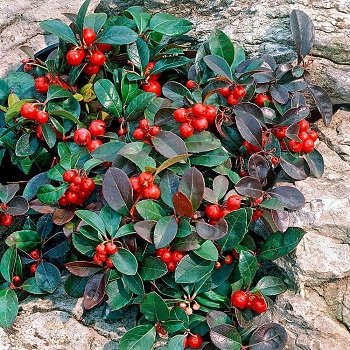 USDA Hardiness Zone: 3 to 7
As the name suggests, wintergreens are made for winter! These berry-forming winter outdoor plants will give your space a flawless festive look. Wintergreens are neat, low-spreading evergreen plants that stand out for their large red berries and green leaves (which acquire a reddish tinge in winter!)
Phormium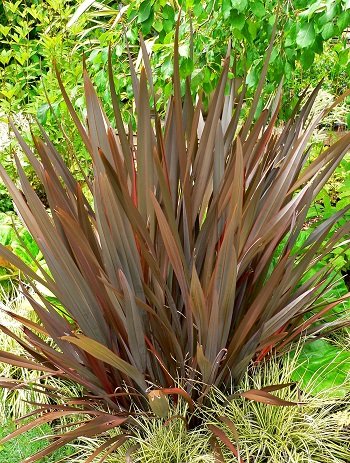 USDA Hardiness Zone: 7 to 11
Phormium is a one-of-a-kind evergreen. With its colorful strap-shaped leaves, this outdoor winter plant will intensify the color scheme of your garden. The striped patterns of purplish, pink, red, and bronzy shades of its leaves will leave you in awe of its beauty and simplicity!
Velvet Viking Japanese maple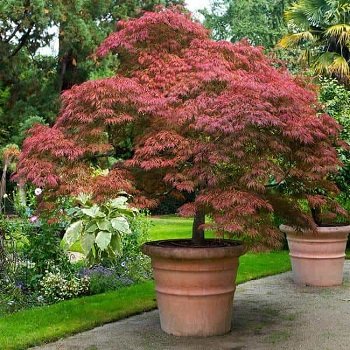 USDA Hardiness Zone: 5 to 9
Japanese maples are the statement plants of autumn. Their hot-tone colored leaves of red, rust, and orange fill up the forest grounds and mountain in the fall season. You can now recreate this vivid colored landscape in your home garden by placing dwarf versions (which are pot compatible) of Velvet Viking Japanese maple in your garden! These winter container plants outdoors will break the monotony by their divine presence.
Colorado blue spruce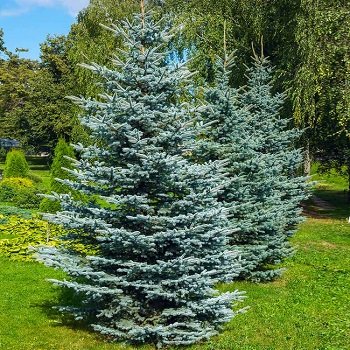 USDA Hardiness Zone: 1 to 7
Colorado blue spruce is one of the ideal winter plants for outdoor pots. While they can grow up to 50 meters on the ground, you can enjoy the smaller versions in the pot. The cute mini versions of this winter outdoor plant will give you the Christmas feel throughout the winter unlike any other. Since this Rocky Mountains native settles in pretty much any type of soil, you would not have to hustle to make it grow.
Outdoor hanging plants for winter
Not only can you diversify your garden, but you can also now add outdoor hanging plants for winter to improve the intense aura of your garden. Summer hanging baskets are an old talk, outdoor hanging baskets for winter is gravitating everyone for all the right reasons:
You can go for flowers, evergreen, ferns, succulents, or anything you want
You can also use multiple outdoor winter plants at once in a hanging basket to add complexity to your piece.
The best thing is you can use hanging baskets for subtle customization or to establish a big dramatic centerpiece that will be the focal point of your garden!
The best plants for winter hanging baskets are: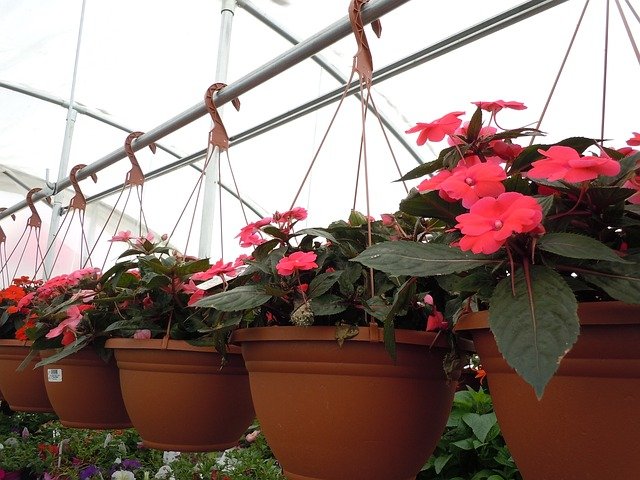 Violas and pansies (Their jeweled colors such as shaded yellow and deep purple and easy to care nature makes them ideal outdoor winter flowering plants)
Hellebores (Hellebores verdant winter display is accentuated by its bold purple colored flowers that come around in winter. These outdoor winter plants complement well with other flowering varieties)
Cyclamen (Their pink-hued flowers and blotched foliage resonate well with the hanging basket theme)
Ivy (this trailing variety, whether planted alone or with flowers, will be a spectacle to observe)
Ornamental cabbage (the frilly leaves of this voluminous plant will always catch your eye with its fascinating deep green, shaded purple and white colors. Plant it in June to let it settle and show its full color)
Heather (This winter flowering specimen showcases the most beautiful colors you can think of! The rose-pink, purple-pink, and magenta-colored varieties look out of this world)
Ferns (the ultimate sword-like fronds of ferns serve as the best bold backdrop against the traditional softer green plants.)
Winter irises (They are the inevitable option when choosing outdoor hanging plants for winter. The striking purple-pink and yellow blooms peeking through the snow are a sight to behold!)
Heuchera (these low growing evergreen perennials display unique foliage colors in winter, ranging from silver to rust, red and purple hues)
On a side note: Don't blackout on us now! There is so much more to know. You will thank us at the end.
How to take care of outdoor plants in winter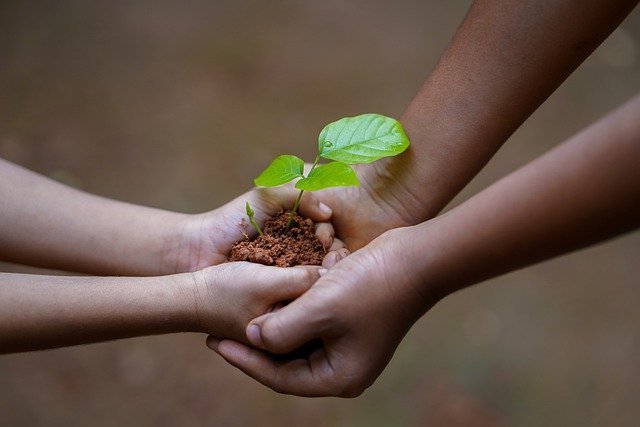 Outdoor plants, which are not accustomed to winters, need your utmost attention during this time. Winter in countries such as the USA and UK can be harsh and constantly changing. You are well aware of how it can shift from high frost to low frost or sudden cold snap overnight!
Everyone must learn the basics of how to care for outdoor plants in winter to protect them from damage as much as possible.
Preparing outdoor plants for winter
You should start preparing outdoor plants for winter during the end of autumn. (This will save you from a panic situation when winter arrives.)
Do you have space in your house to bring your potted plants in? Or do you have a greenhouse set up in your house?
It would be great if you can go for either of the two options. Your tropical potted plants can go into dormancy within the house in a controlled environment. Having a greenhouse, on the other hand, will save the plants from harsh winds and heavy snow. (Greenhouses are a very good investment for harsh winters. You would be happy-go-lucky in no time!)
If either of them is not possible for you, move your potted plants and compost heaps to areas that receive the most sunlight (trust us, fam, we do not want the microbes in compost to die from cold at all!)
The other steps you can take are:
Preparing soil for outdoor plants
You should prepare your soil for outdoor plants to
Prevent uprooting of perennials in a cold snap
Prevent the loss of water from the soil.
You should cover the base of your perennials with compost and mulch. The fallen leaves during autumn will also serve the purpose of insulation! Just remove dead leaves from your plant and weeds from the ground and spread a ring of mulch around it.
And voila! You are done for the season.
Note: The best insulation is achieved by 6 inches of mulch! (Mind-boggling, isn't it?)
Do you know what mulch does? Mulch protects the crown and roots of your plant, only allows water to seep through, and prevents the growth of weed within the region.
Watering outdoor plants in winter
Watering outdoor plants in winter is not as hard as you would imagine. The key is to cut short the frequency of watering (water once every week) and water trees at trunks and plants at the crown. (See! Easy peasy.)
How to keep outdoor plants warm in winter
Knowing how to keep your outdoor plants warm in winter should be a priority for you.
Leaves and plants as a whole are subject to frostbite if not kept warm enough (It sucks to watch your plant die, doesn't it?)
The best way to keep plants warm and cozy is to place them in a greenhouse. If you have a tight budget (we all do after the pandemic) and limited space, you can go for grow boxes and cold frames. These wooden boxes with glass panels on top will save your plant from all the monstrosities of winter.
For plants in containers, you can fill mulch to the rim and bubble wrap them to protect them from winds.
The easiest way to keep your outdoor plants warm in winter is by establishing polytunnels made out of burlap. Cover it with a plastic sheet for extra protection and place old blankets and sheets on the ground to keep the soil warm. A well-watered soil itself provides heat insulation to the roots.
This is all for the brief guide on how to keep your outdoor plants alive in winter. Take these steps and add winter outdoor plants to your setting for a wholesome look!