One easy and cost-effective way to change the entire look of a place is to add hanging basket plants on the ceiling. They don't burn a hole in your pocket and are extremely easy to maintain and manage. They add a certain kind of warmth where they are placed, giving off a very welcoming look to the viewers setting a glance on them.
The fact that the opportunities and ideas associated with hanging basket planters are unlimited makes them a worth opting idea! A little effort can change the whole look of your house, giving it the most stylish appearance ever! Be it your room, the lounge, the entryway, or the kitchen, this basket of small blossoms would complement everything.
All You Need to Know About Hanging Basket Plants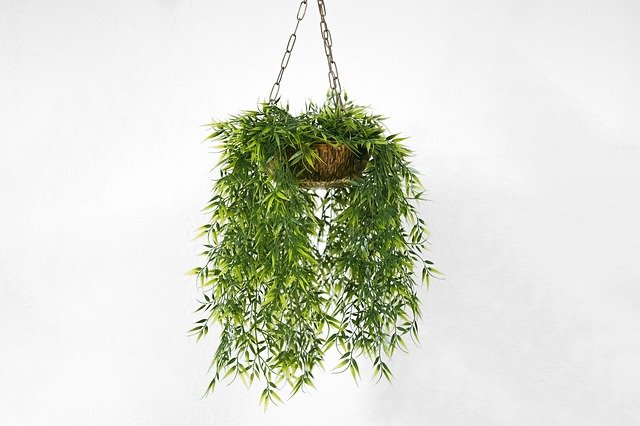 A hanging planter, as the name specifies, hangs from the ceiling and looks like a suspended basket with blooming plants. These containers are made of varied material options, including plastic, wood, coated wires, or timber. Most of the time, these containers are waterproof. Hence, even it rains over them or the sprayed water touches them, it doesn't affect their composition or form.
Alongside this, the items used to hang the baskets also vary. You can choose whatever suits your aesthetic sense, from the simple ropes to chains and from macramé to threads. The options are unlimited. All you need to do is to expand your imagination and believe in your own aesthetic theory to go about it.
A bit of DIY inspiration and Viola! You'll be able to upgrade your space instantly.
Choosing A Hanging Basket
Now, this is pretty exciting! There are numerous options available, and you can choose one just according to your taste and convenience. If you are a wicker fan, opt for it as it's quite easy to hang from the ceiling. At the same time, it looks ultra-stylish and lasts quite long. A ceramic or moss basket is also a viable option. If nothing works, you can choose a tin can and reuse it to convert it into a hanging basket.
One thing that you need to consider while choosing a hanging basket is its size! For a large space, you can either opt for several small baskets or a big one. Either way, you will be able to fill the space up easily. If you go for a very small basket, you won't be able to manage a vastly growing plant that wants to sprout out of the basket holes. A basket with larger space and area will be able to retain water for longer periods and would ensure to let the plant grow to its fullest. It would be able to utilize its potential quite well if you let it do so in a huge basket!
The right way to go, hence, is by choosing the plant that you want to grow and then deciding the most suitable basket to enclose it.
Choosing The Plant
As already suggested, choosing the plant first and the basket later is the right way to make things go in your favor. Nonetheless, choosing a plant is not that simple! You need to consider a great many things before opting for one.
The major considerations while choosing a plant are:
A) A plant that requires sunlight to sprout and grow should never be used in a basket that you want to hang indoors. It will restrict its growth and would hinder its development. Eventually, it may also end up dying! Certain plants, on the other hand, don't require the sun to grow. These include Devil's Ivy, Silver Bells, and Boston Fern. For indoors, they are a good option to go for.
B) Considering the weather conditions and choosing a plant according to it is a must. A plant that you love but doesn't grow in the kind of environment you live in is not worth the investment you make in it. No matter how much you try, if the external environment is not suitable, such a plant won't grow in your house.
C) Plants that need constant care and upkeep should be chosen if you are ready for such a commitment. In case you are a busy person with tight schedules, opt for a plant that's easy to grow and doesn't require constant upkeep.
Some of the Most Appropriate Hanging Plants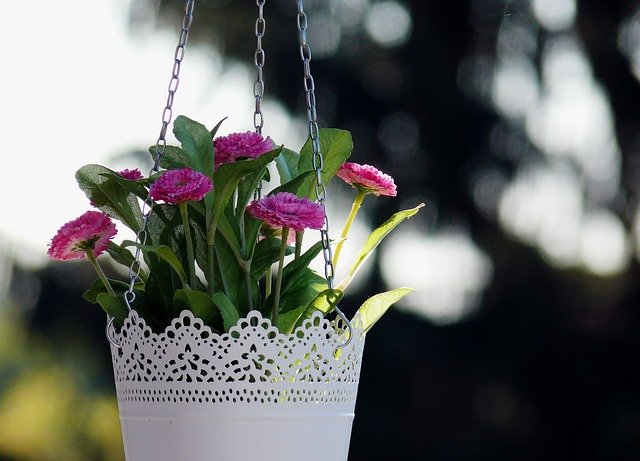 Peperomia
Peperomia is surely the first choice of those who love indoor plants and have a high aesthetic sense. They need indirect exposure to light, hence can be considered viable for indoor spaces. They grow best on succulent mixed soil and have a high average growth rate. Their super-attractive shape makes them the first choice of all plant enthusiasts and interior stylists.
One thing that makes peperomia a reasonable option to go for is its low-maintenance nature. It is easy to take care of and sprouts well, even if watered twice a week.
Marble Pothos
If lush green plants are your choice, the Marble Pothos is a good choice to make. They are small-sized plants with dark green color, having heavy volume. They tend to fill the spaces up easily, making the whole area appear quite modern. Alongside this, growing them is pretty easy.
All you need to do is to take one stem with some leaves and place it in the soil. Water it a few times, and in the next week, you will see the small roots sprouting up. Within no time, you will be able to see the plant overtaking the whole area.
String of Hearts
One of the most attractive indoor plants, the String of Hearts, is a choice most people make. On Instagram, it's one of the most posted indoor plants, as it matches the aesthetics of INSTA influencers. Its soil and water needs are not extensive, and the plant is surely not a demanding one.
Philodendron
Requiring a medium amount of light, the Philodendron can be placed in the gallery. Hanging from the ceiling, it makes sure that the onlooker gets enthralled as soon as he glances at it. Deep green in its color, the plant surely gives a cozy yet vibrant vibe to the space it is hung on. Within a few years, it will grow as long as 20 feet, covering the area thoroughly.
Orchids
One of the most pleasing to the eyes plants that you can use in your hanging basket is the orchids. It is extremely pleasant in its looks and gives off a very sweet fragrance. The best part? These are pet-friendly plants that are easy to maintain and manage. However, you need to be a little vigilant and water them every single day. Once you achieve this routine, you will be able to see these vibrant plants changing the entire vibe of your house instantly.
You can also mix and match these plants by placing them in varied baskets and hanging them at various points in your house.
Styling The Hanging Basket Plants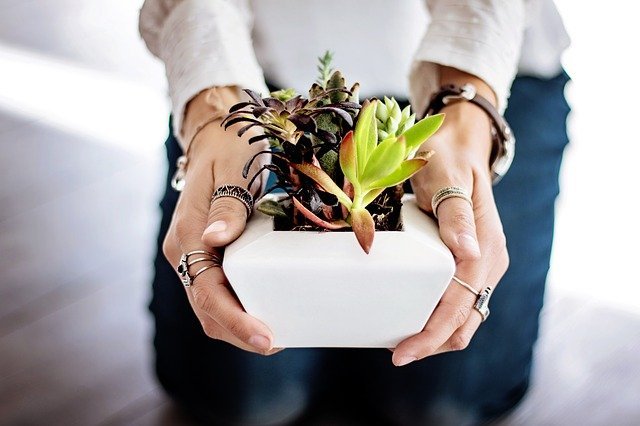 Hanging basket plants are themselves extremely stylish and don't really need anything extra to make them look nice. However, you really need to avoid stuffing the space up with the plants way too much as an excess of everything is definitely bad! You may have an idea of the final outcome in your mind before opting for it. Before its execution, be sure of whether it really compliments the targeted area or not.
The Colour Scheme
Yes, the color scheme you are going to opt for does matter A LOT. Your finished look should stand out in the space rather than merging with other things. You may go for a style that has dark green tumbling down or a small but wide ball of green hue that is studded with heavy leaves and buds.
You can also color the basket just according to your choice and the shade of the overall house, along with the kind of vibe you are looking for!
Level of Access
You obviously need to water your plant every other day and trim the dead parts every week. This requires you to have access to it at all times. A plant basket that is way above your reach is of no use as it won't thrive when not watered. Hence, while deciding on the height of the basket, keep your own height as the major consideration.
Easy to Relocate
If you are a minimalist, you wouldn't want to get your hands on too many planter baskets. In such a situation, buy a basic one and keep changing its location every now and then. This will require you to spend less yet adorn your entire house with it, albeit with intervals.
Maintaining Hanging Plants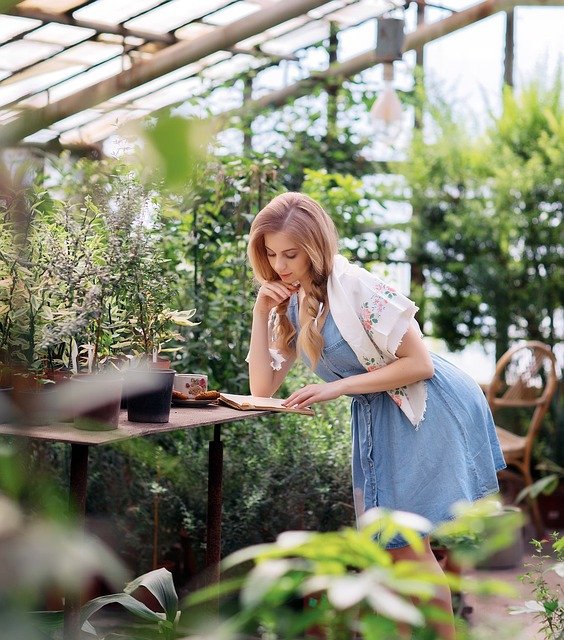 Each and every living being living on the face of Earth need some care in order to thrive and blossom. The same thing goes for plants. The ones that you use as hanging plants also need some maintenance to grow.
Some of the ways you can maintain your hanging plant for its wellbeing are as follow:
1) Cutting the Dead Ends
Now, this is crucial! In order to help your plant blossom, you need to give it the liberty to do so. For that, cutting the dead ends and making the colorful parts grow is necessary. As soon as you see an end of the plant getting brown, take a pair of scissors and cut it off immediately.
2) Using a Fertilizer
You can expect the nutrients of soil to give all the required energy to your plant to grow. To aid the plant to thrive, you need to add in some liquid fertilizer. Doing this will furnish it with all the nutrients it lacked. First, you need to moist the soil a bit and then put some fertilizer into it. The type and quantity of the fertilizer need to be advised by an expert.
3) Frequently Watering
If you tend to forget to water your plants, there are great chances of them suffering badly. Lack of water and moisture gives stress to the plants, and it leads to their death quite soon. Watering them early in the morning is a good idea, as it prepares them from the ensuing stress caused by the heat or dryness of the weather.
4) Choosing Huge Baskets
If you have enough room, opting for baskets that are big in size is a better option than going for smaller ones. The reason behind it is the fact that when the baskets are small, they tend to affect the growth potential of the plants present inside them. The roots start tangling in one another, making a web. As this web tightens, it gets difficult for them to grow over the limit offered by the basket.
Hence, the bigger the basket, the more are the chances of plants to thrive in them.
5) Cleaning the Old Baskets
In case you are reusing the old baskets this season to put new plants in them, make sure to remove the annuals (residuals from the last plants). The dead remains of the previous plants turn poisonous and have the ability to kill the new ones as well. Hence, a proper clean-up of the old baskets is indeed necessary.
At the same time, if you are planning to paint the old baskets and make them appear fresh, make sure to use paint that is free of poison. It will make your baskets appear vibrant without hurting the new plants in any manner.
Conclusion
Having indoor plants brings a natural outlook to your house. In this world of technology and the rapid rat race, a cozy and comfortable place to live is indeed a privilege. The hanging baskets plants will make your house appear aesthetically pleasant and extremely adorable.
So, what are you waiting for? Get a few baskets, place your favorite plants in them and hang them from the ceiling that looks barren. Show these plants some love, and they will thrive on giving your house a brand new look!