Large succulent plants will oomph up any space they are placed in. They are tough-as-nails plants that require minimal maintenance whether placed indoors or outdoors. This is why they are a gardener's favorite eclectic plant.
(We know you are super busy after the pandemic but still wish to add plants to your home and garden. These exceptionally durable plants will even effortlessly survive in the care of black-thumbed among you!)
The types of large succulent plants are so many that you will be left confused about what to choose. They also require different conditions to grow well.
This is why in this article, we have compiled the best outdoor and indoor large succulent plants that you can easily grow in any setting! (And hey, some of them flower too!)
Large succulent plants for outdoors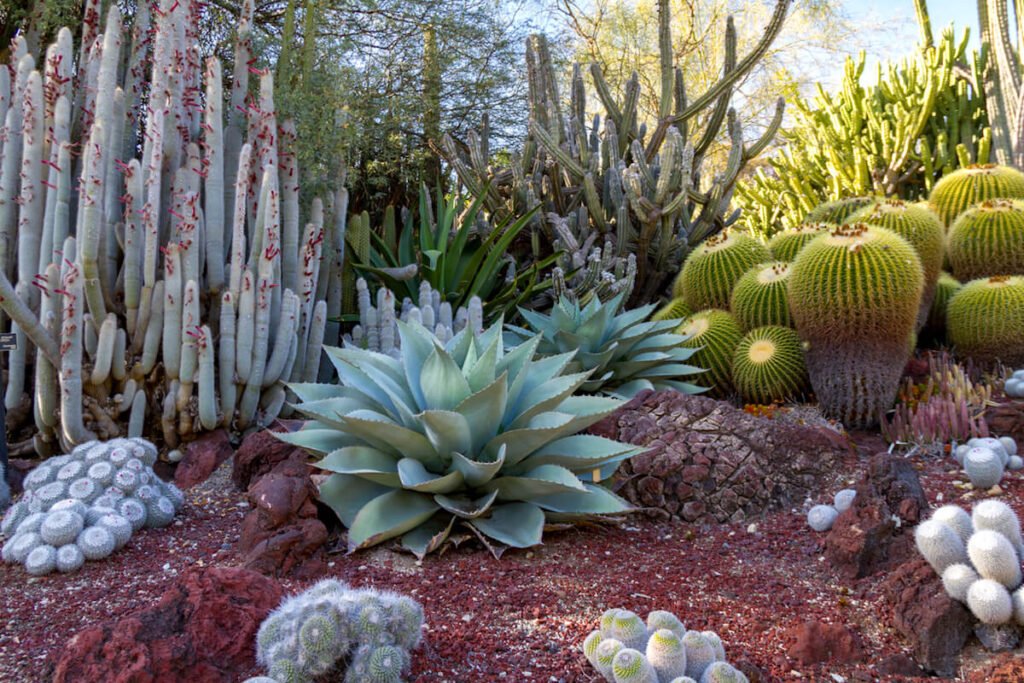 Who doesn't want to set up a modern (Instagram-worthy) succulent garden? Large succulent plants, with their unique leaf arrangements, enhance the overall appeal of your flower garden. We have compiled some of the best large succulent plants for outdoors for you to grow according to the zone you live in.
The glorious Money plant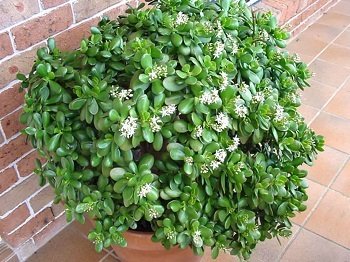 Name: Cassava Ovata
USDA Hardiness Zone: 10a to 11b
Also widely known as the Jade plant or Lucky plant, this large succulent plant is linked with prosperity and wealth.
Note: Jade plants can be grown both indoors and outdoors.
If left unchecked, it can grow up to 1 meter in size. The Jade plant loves bright light, therefore placing it in a well-lit garden area will let you observe a compact Jade plant that has red-edged leaves.
There is nothing like Lion's tail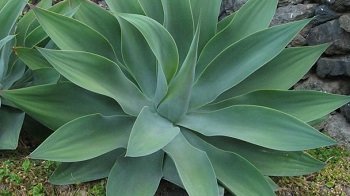 Name: Agave Attenuata
USDA Hardiness Zone: 10 to 12
Have you ever witnessed a curved inflorescence? Agave attenuata grows just that.
Its highly unusual inflorescence has given it the name of 'swan's neck agave'. This particular agave is also famous for its silvery, pale green succulent leaves that mostly occur in a rosette arrangement. Agave arches back like a fox's tail and does not have any thorns or spikes on its tip. It is usually 4 to 5 m tall and 6 to 8 m wide.
Just like most succulents, it grows best in well-drained sandy soil while receiving full sun or part shade. This large succulent plant can act as a dramatic focal point and you can plant it in areas that are hard to access to accent your garden(especially succulent gardens).
The pink-hued rosette masterpiece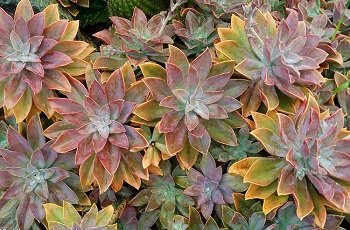 Name: Graptoveria Fred Ives
USDA Hardiness Zone: 9a to 11b
This ever-beautiful large succulent plant is the winner of the garden. Its leaves change color depending upon the sun exposure they get (So cool! isn't it?)
The leaves become purplish orange to blue-green, and vivid pink when placed in full sun. Each bud is approximately 20 cm long and 1 foot in width when fully grown. It is a large succulent leaf flowering plant and produces flowers of 2 ft height in summer.
This hardy plant will survive a lot of conditions. Well-drained soil is also a must for it. The best part is you can grow this large succulent plant by using a single leaf (Sic!)
A zinnia enthusiast's beloved succulent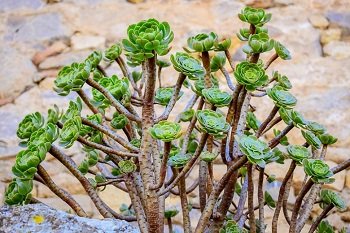 Name: Tree Aeonium (Aeonium Arboreum & Schwartzkopf)
USDA Hardiness Zone: 9 to 11
Tree aeonium is what a zinnia would be if it was succulent. The most trendy aeonium varieties are Arboreum and Schwartzkopf. The former is light green in color while the latter boasts of deep burgundy leaves. The powerful contrast on the leaves will leave you smitten!
The leaves of this large succulent plant take a rosette arrangement, which appears more vibrant and compact when placed in full sun. This hardy, large succulent plant for outdoors can tolerate variable light conditions and grows to 1.5 m, producing trunk-like structures on which individual buds are supported.
Acquire the flames – without the fire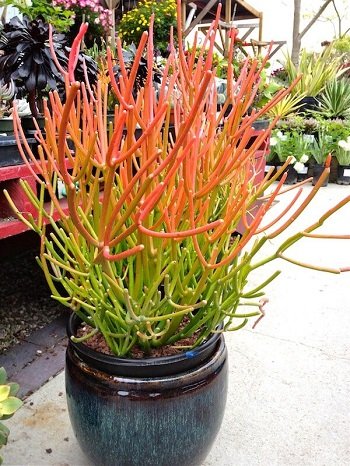 Name: Euphorbia Tirucalli 'Rosea' (Firesticks)
USDA Hardiness Zone: 9 to 11
Firesticks grow up to 3 feet tall and 2 feet wide and resemble a shrub. This plant showcases vivid winter hues such as red, orange, and pink at its tips.
Fact: This large succulent plant changes the color of its tips to stunt its growth by reducing chlorophyll. You can see its most vibrant colors in slight winter while in full sun!
The color of this succulent shrub will make you fall head over heels for it. Planting it is also very easy but be careful as it is poisonous to humans.
Pro Tip: Plant this large succulent plant near moisture-loving plants; it proliferates better in ordinary soil as compared to other succulents.
A must-have surreal blue-white succulent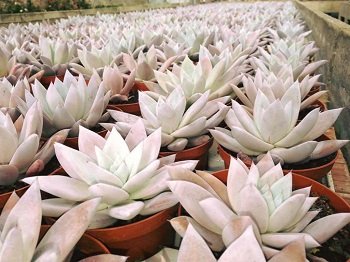 Name: Echeveria Mexican Giant
USDA Hardiness Zone: 9b to 11b
This pink-blushed powdery white large succulent plant is a sight to see!
You will be fixated on its beauty and perfection. This Mexican native grows a single rosette-shaped bud that measures 30 cm in length and 40 cm in width. Its exquisite beauty is credited to its one-of-a-kind long pointed leaves of blue-white color.
Note: It's such a popular large leaf succulent plant that you might find it hard to find it near you. (But trust us, it's worth all the effort!)
The crowd-pleaser Ice plant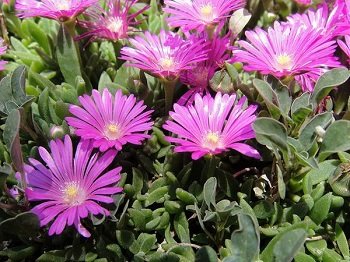 Name: Delosperma Cooperi
USDA Hardiness Zone: 5 to 9
Did you ever imagine a large succulent plant to produce multiple daisy-like flowers? Well, neither did we!
This matt-forming large leaf succulent flowering plant is a fantastic ground cover. It will make your garden appear full and fresh with its fresh flowers. You can also plant this large succulent plant along the wall or on the garden's edge as they enhance the beauty of the sight by spilling over.
Pro Tip: Go for the miniature version of this large succulent plant if it's your first time buying it.
A well-suited succulent for frost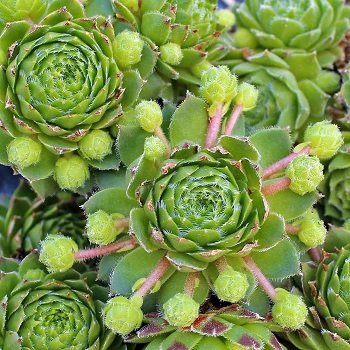 Name: Sempervivum Tectorum
USDA Hardiness Zone: 3 to 8
There are rarely any large leaf succulent plants that survive both in summer and winter. Luckily, Sempervivum tectorum is one of them.
This large succulent plant produces magnificent rosettes in multiple quantities that can cover a large area. This plant proliferates by producing offshoots carrying purple marginal green-colored rosettes.
Fun Fact: This large leaf succulent plant is known for medicinal uses and is widely used in homeopathic remedies.
Large indoor succulent plants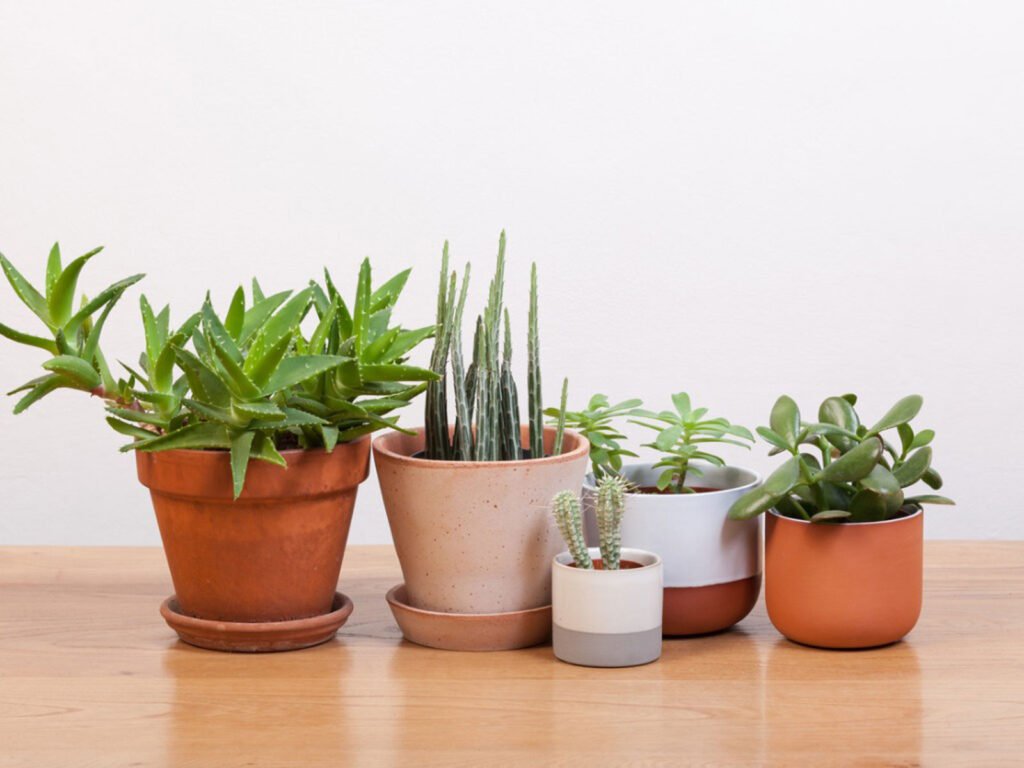 The types of large succulent plants included here can adapt well to the house conditions. These large indoor succulent plants will compliment your cozy dining room setting, your workspace, or any spacious room in your house.
The red-rimmed enchantress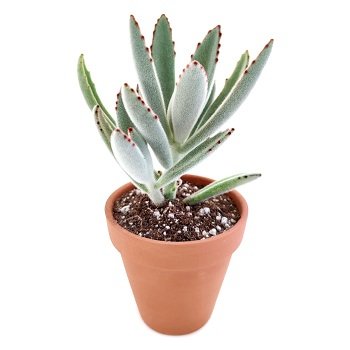 Name: Kalanchoe Tomentosa (Panda Plant)
USDA Hardiness Zone:11 to 12
It's quite hard to resist touching these charismatic, peaceful-looking large succulent plants. The leaves are covered with small white hair that gives a fuzzy feel on touch. The red hairs on the rims give a sharp contrast to the dull green color of leaves of this upright succulent.
Note: Do not water the leaves as they rot easily.
Just like most succulents, it prefers dry soil and less humidity. So, if you are looking for a large succulent plant to thrive in your winter heated home, the Panda plant will be ideal for you.
The sublime medicinal plant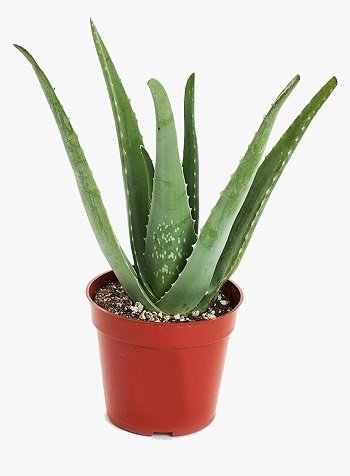 Name: Aloe Vera
USDA Hardiness Zone: 10 to 12
You must be living under a rock to not know Aloe Vera's name! This widespread yet insanely popular plant is quite a hardy large succulent plant. Aloe Vera grows by thick succulent leaves arising from the main shoot that produce offsets (more leaves). Thus it is necessary to plant these succulent plants in large pots.
You also need to keep them away from direct bright sunlight sources (such as windowsill) as too much light can burn the leaves. It grows up to 1 to 2 feet in height indoors.
Beware: The margins of Aloe Vera leaves have spikes, be cautious while handling this plant.
All the rage about Aloe Vera is linked to its medicinal properties that have been known for ages! The gooey sap of this large succulent plant is beneficial for skin, hair, and healing of burns.
Bird's nest: the easiest houseplant to grow
Name: Bird's Nest Sansevieria
USDA Hardiness Zone: 10
This compact version of the well-known snake plant is the most adaptable houseplant there is. You will be left stunned by its visually appealing striped silver-green leaves that swirl in the center.
Although it grows pretty fast, it's very unlikely that you will see it flowering.
Fun Fact: It's also commonly known as Dwarf mother-in-law's tongue. Hilarious isn't it?!
Are you looking for any large succulent plant with round pots? Bird's nest or 'Hanhii' is the ideal choice for it. This large leaf succulent plant quickly fills up the pot with side shoots arising from the main structure. It is an ideal plant for low-light settings such as desks and office tables.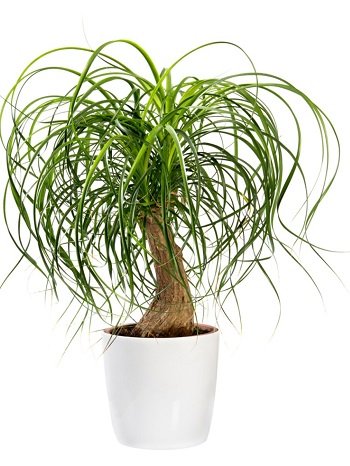 The funky succulent winner
Name: Ponytail Palm
USDA Hardiness Zone: 8b to 11
The large succulent plants with round pots mostly comprise this eclectic succulent variety. Its name and appearance may confuse you if it's a palm but know that this is not the case. It stores water in its large trunk-like base and its leather-textured leaves are resistant to drying.
Fun Fact: It is also known as Elephant's foot due to its bulbous trunk-like structure.
Although this large succulent plant reaches 8 feet in height, it is a slow grower and rarely needs repotting if planted in appropriate round pots initially. It is a forgiving, warm temperature-loving plant that grows well in bright light.
Donkey's tail: an unusual yet appealing plant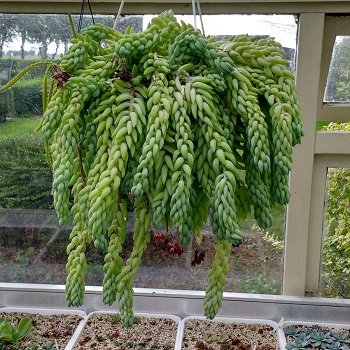 Name: Sedum Morganianum
USDA Hardiness Zone: 9 to 11
This trailing succulent will be a unique addition to your houseplants' collection. These succulent plants in large pots placed on a table will be the centerpiece for your room.
Each stem can grow up to 3 feet long and prefer to have access to direct sunlight.
Note: You will be tempted to touch its bulbous silvery green leaves that look like rice grains but be aware! They are very fragile and will fall off even on gentle touch.
A tree named misnomer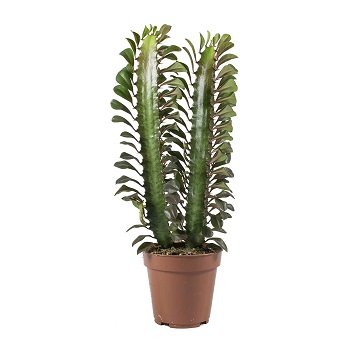 Name: African Milk Tree
USDA Hardiness Zone: 9b to 11
Despite the name, this large succulent plant is not actually a tree. It grows up to 3 feet in size indoors. The African milk tree has a shape unusual to other large indoor succulent plants.
Its structure includes upright, triangular, branched stems that are covered with thorns. The tips of the stems also bear small leaves with a flaming red color.
Note: It has a poisonous sap which can be dangerous for kids(causes skin irritation).
African milk trees prefer ample amounts of sunlight and consistently moist soil for best growth.
Tip of the Day: Succulents placed indoors not only look good, but they also act as air purifiers Succulents can also be safely placed in a bedroom as they emit oxygen all day long!