When I was young, my mother used to grow fresh squash plants in the backyard garden. I remember my mom plucks the fresh squash early morning and makes a fresh Maple Cinnamon Butternut Squash for all of us. My brother and sister love to have it in the morning but I usually don't like it.
So this year, I want to develop the biggest and nicest garden ever, with plenty of lovely squash plants. Because I can't think of many other plants she adored more than a squash plant.
If you want to grow squash plants in your garden, this guide will help you to plant some of the best squash plants and different types of squash companion plants that will bloom the look of your garden and I'm sure you will love to see the exciting greenery of squash plants after you grow them in the backyard of your house.
However, we are going to cover up some of the best types of Squash plants that you can grow in your backyard or front yard garden.
Best types of Squash to grow in your garden
Squash grows mostly throughout the year. Squash comes in two varieties: summer squash and winter squash. Squash may be able to be grown sooner or later in the year depending on where you live. The most well-liked types include some of the following:
1. Butternut Squash
A butternut squash is one of the simplest types of winter squash that can be grown easily in your backyard gardens. It is adaptable and used in several dishes. It is excellent for roasting or making soup, too.
Butternut squash vines produce green fruits that turn into beige gourds with thick, stiff rinds as they ripen. The nutty flavour of the delicate, orange flesh is similar to pumpkin. Butternut squash has a broad base and an oblong, hourglass shape. Its wide base contains seeds and pulp.
It's a five to 15-foot annual with tendrils that creep or climb. Its medium-sized fruit, which matures to weigh between three and five pounds, and its huge, bell-shaped yellow flowers are produced by the plant.
2. Acorn Squash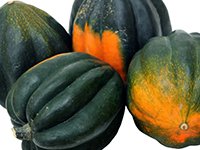 Another winter squash on the list is Acorn Squash which has an acorn-like form that is thick, spherical, and ridged. The acorn squash has a rich green colour with areas of vivid orange and yellow. A ripe acorn squash normally weighs between one and two pounds, and its flavour is comparable to kabocha squash.
Acorn squash is categorized as winter squash, much like delicata and spaghetti squash, since its hard, thick shell enables you to preserve it for months after harvest without having to refrigerate it.
Acorn squash is a tasty carb choice because of its bright colour and sweet flavour. It has a very good taste and is also nutrient-rich. Furthermore, it could offer several remarkable health advantages.
3. Delicata Squash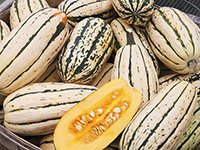 With so many tasty squashes to pick from, the delicious delicata squash stands out. Unlike other winter squash, the Delicata squash plant has wonderful edible skin and is a member of the Zucchini family.
It is a cream-coloured fruit with attractive green stripes and orange flesh. Gardeners planting delicata squash have hit the jackpot with this excellent plant, which can also be stored for several months.
However, your backyard garden will be encircled by this quickly spreading vine as it produces stunning leaves and flowers. This plant is adored by gardeners not only for its yield but also for its tasty seeds and blossoms.
4. Calabaza Squash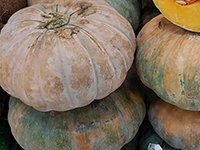 Calabaza squash is a winter squash, which means it is harvested in the summer but is at its best in the fall and winter even though it is always accessible to have this type of squash plant. Calabaza squashes have a pumpkin-like form, and the color of their skin can vary from green to light brown.
This squash plant contains flesh that is yellow-orange in colour and tastes comparable to Butternut and Acorn squash in terms of sweetness and nuttiness.
The cultivation and usage of Calabaza squash are fairly similar to those of other cultivars. In reality, it was among the first varieties of squash to be planted and grown in the "Three Sisters" garden. Calabaza squash plants have a rather lengthy growth season and are quite extremely kind to cold.
5. Hubbard Squash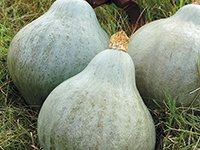 The Hubbard Squash is one of the most grown winter squash plants which is well-known as "green pumpkin" or "buttercup," among other names. When referring to Hubbard squash, the term "green pumpkin" describes both the colour of the fruit during harvest time as well as the sweet flavour that may be used in place of pumpkin to produce a delicious pie.
Because of the strong outer shell, you can store it for up to six months. However, if the inside part of the squash is orange, it can be eatable and provides several health benefits but if it is green to grey-blue, then you can't eat this fruit. You can barely consume 120 calories and get nutritional fibre and Vitamins from this squash plant.
6. Spaghetti Squash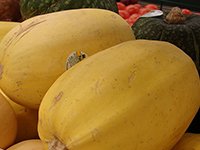 Another type of winter squash is widely used in cooking. They often have an oblong form and hard, inedible skin. The inside is made up of small squash strands that resemble spaghetti but are much more watery than summer squash.
As a result of its long, meaty fibres, which you can twirl around your fork while eating, spaghetti squash is frequently used as a nutritious pasta replacement in gluten-free dishes. This veggie doesn't taste at all like spaghetti and instead has a silky, nutty flavour that pairs nicely with creamy, rich sauces and soft cheese.
When fully mature, the spaghetti squash has a brilliant golden colour. Finding out if your squash is ready for harvest is really simple indeed because immature plants are green or have a pale look.
7. Kabocha Squash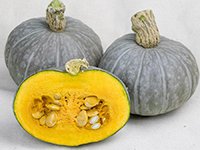 Due to their high concentration of vital nutrients, veggies are becoming more and more popular today. One of the popular vegetables that are high in vitamins and other minerals is kabocha squash which was developed in Japan, which is why so many people plant this type of squash in their gardens.
Although kabocha winter squash is relatively tiny, growing kabocha squash takes a lot of room due to the plants' tendency to develop in a vining fashion. The kabocha squash plants can be grown in a range of soil types but they prefer rich, well-draining soil with a pH of 6.0–6.8.
This Japanese pumpkin often has deep green skin that is striped with pale green or white and has raised bumps on it to give it a subtle texture. Other variants are available in black, red, and even blue textures.
For the cooking purpose, this squash type works well in soups. Therefore, you should think about growing this kind of squash if you enjoy making soup.
8. Crookneck Squash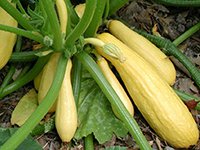 This squash plant is one of my mom's favourites as you can use it in my different dishes. The Crookneck Squash also known as yellow squash is one of the finest summer squash types that has slight curves around its narrow necks which is why they called a crookneck.
Due to its productive ability, almost 2 to 3 plants of this squash are enough to feed the whole family. I remembered my mom planted only a single bunch of crooknecks in the backyard of the garden and after one to two months, she usually plucks almost 5 to 7 yellowish crookneck squash.
If you want to plant this type of squash, you should directly grow these plants from the seeds. Just make sure that these plants like loamy, moist and fertile soil. keep this thing in mind that this plant is a fast-growing plant that can spread up to 3 to 4 feet so, you have enough space to grow or harvest this plant.
9. Zucchini Squash
Since zucchini are categorized as summer squash, they begin to bloom 35–45 days after sowing and only do so throughout the summer. With a good rinse and stem end removal, squash may be eaten straight from the garden, with or without the skin. Additionally, it may be chopped, steamed, roasted, or utilized in a variety of other dishes.
However, if you want to grow some of them large, that's OK, but try to focus on growing the smaller, soft squashes that are creamy and delicious in stir fries and summer soups, or breaded and fried.
If you want to grow this type of squash, keep in mind that they do require organically rich, fertile soil that has been improved with aged manure or compost, as well as lots of space between plants to prevent soil mould or pests and illnesses connected to moisture.
How to care for your Squash plants?
Under this heading, you'll get to know about how you can care for your squash plants so that you will get a healthy fruit for your daily use.
Squash doesn't have a particularly high standard for soil. The key need for squash is full exposure to light and wet yet well-drained soil. Soggy dirt is not what these plants want. So, if you provide these benchmarks to squash, they will grow healthily without much difficulty.
After you see the first bloom on your squash plant, it is the best time to fertilize because, at that time, your plant is in the growing mood, so if you provide more nutrients to your plant, then it'll grow aggressively and healthily. After every 4 to 5 weeks, you should fertilize your squash plant.
Watering your squash plants frequently is the most important thing you have to do. Remember, each week, you have to add at least an inch of water, in addition to your usual watering schedule for the other days. I'm dam sure your plant will prosper as a result of this.
If, however, your squash plant produces oddly shaped fruit, it is either in need of water or fertilizer.
What kind of Squash Companion plants you can grow?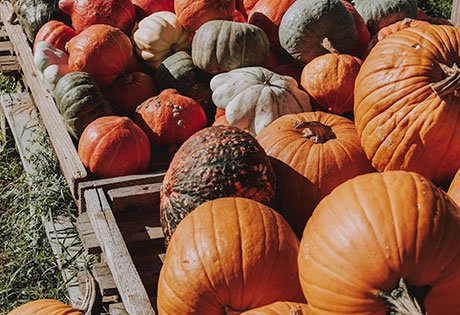 Well, it is the most frequently asked question about squash plants so, we decided to put some light on this question.
As we know that squash is one of those plants that you can grow easily in your gardens. Regardless of your level of gardening skill, this is a fantastic food to produce and maintain.
There are plenty of benefits to growing different varieties of plants with squash but you have to choose the right companion plants for squash.
Here are some of the best winter and summer squash companion plants that you can plant with squash.
1. Peas and Beans
Peas and Beans are always two of your choices when looking for the finest companion plants for squash. The two collaborate to ensure that your summer squash grows healthily, which is the reason you should choose these plants.
Taking beans as an example, their roots contain bacteria that work to repair the nitrogen levels in the soil. Squash plants can soak up the nitrogen that beans give since they are big feeders and use a lot of nitrogen. Additionally, squash preserves soil moisture, and its spikes can scare off pests. Peas are another plant that can fix nitrogen, much like beans.
2. Marigolds
Marigolds are flowering plants. When you put them in your garden alongside winter and summer squash, they are gorgeous blossoms that may emit vivid and lovely colours. These flower species can also be used to make recipes.
Marigolds are also pest-repellent, which makes them the ideal squash companion plant. They can especially aid in the elimination of nematodes, which are regarded as dangerous pests that frequently live in garden soil.
3. Tomatoes
Tomatoes have a tendency to go nicely with other veggies in your garden. Due to the comparable growth conditions of this veggie and your summer squash, it is a fantastic companion plant. These two veggies can even be grown together with wild garlic, which will increase the output.
4. Corns
Planting corn alongside the summer and winter squash is a good option as it will provide shades to your squash plant that will protect them. moreover, if you have beans and corn in your garden, squash also helps by protecting them from pests and insects. So, if you plant corn and beans with squash, they all will be benefited.
5. Radish
Radishes and squash can be planted together, which is a terrific idea. Radishes are wonderful because they successfully ward off squash pests. Icicle radishes, which are hot, white, and crisp, are also good for keeping pests away from your summer squash or summer squash plants.
6. Rosemary
Pests are repelled by rosemary's powerful fragrance because it tends to release it. The advantage of rosemary is that it appears to survive well in surroundings and conditions similar to those in which you produce squash.
Additionally, it has the power to attract and welcome beneficial insects into your garden. Such insects can aid in the elimination of pests; such as squash bugs.
What Differs Summer from Winter Squash?
The texture is the first major distinction between winter and summer squash. Because summer squash often has delicate skin, it is generally more sensitive and moist. It is ideal for grilling because of its property.
Winter squash, on the other hand, is thought to have a harder shell, making it perfect for storage during the chilly months. Winter squash seeds are likewise larger and more difficult to consume.
Why are the leaves on my squash plants turning yellow?
If the leaves of your squash plants turn yellow, there must be a problem with watering. As mentioned above watering is the most important factor that you should probably take care of because it can badly affect your plant and you can see this type of variation in your plant. The main reason for turning your squash plants yellow is that you are giving too much water or less water to your plant.
However, squash plants also require nutrients to grow healthily, so it can be also possible that your squash plant is in nutrient deficiency.
Conclusion
Squash plants are one of the best-growing plants that you can easily grow in your home gardens. This is an excellent food that you can grow in your garden and get a fresh taste of its different types. You can select one of the above-listed squash types to grow in your garden. This will turn your garden into a much more blooming green field full of fresh fruits. You can also make different dishes by using these summer and winter squashes.
For Companion planting, there are so many options for plants that go nicely with the veggie. Your objective should be to select plants that will never compete with squash in terms of nutrient absorption. Furthermore, companion plants you choose should improve harvests and feed the soil.
I hope this guide will help you to plant some of the best types of Squash plants in your home garden. If you have any queries regarding Squash plants, you can ask them in the comment section.